Social media isn't just a great place for keeping yourself entertained and staying up to date with what your friends are doing. They've become a legit place for making a name for yourself as an expert. The tech scene is no exception. Twitter, TikTok, Instagram, or YouTube – wherever you go, there are tens of designers, data scientists, and software developers sharing their knowledge with the community. Wondering whom to follow? Here are 10 influencers that will be a good start! 
Here's whom to follow to stay on top of tech & digital design trends  
#1 Bernard Marr (AI expert)
Advancements in AI, like the Metaverse and Web 3, are the center of many upcoming conferences and discussions. These ideas can be complex to engage with, and only those who are skilled in breaking down these concepts in simple terms gain a following and influence.
Bernard Marr, a world-class AI thought leader and futurist, has built a following on LinkedIn of over 1.4 million people, and one of over 52k on YouTube. His expertise on all things AI and his ability to explain abstract concepts in digestible terms has led him to become a best-selling author, regular Forbes contributor, YouTube influencer, speaker, and strategic advisor.
For those looking to learn about basic concepts in AI, or to stay up to date on upcoming AI trends, you can find weekly videos posted on Bernard's YouTube channel. On his LinkedIn, where he is most active, you'll find Bernard engaging with and discussing current events and news within the world of AI, on an almost daily basis!
A few of his best-selling books you might want to read include:
Artificial Intelligence In Practice: How 50 Successful Companies Used Artificial Intelligence To Solve Problems,

The Intelligence Revolution: Transforming Your Business With AI,

Big Data: Using SMART Big Data, Analytics And Metrics To Make Better Decisions And Improve Performance.
#2 Brandy Morgan (software developer)
With the high demand for building out tech that solves modern-day problems, it's not surprising that a lot of folks want to break into software development. And, unsurprisingly, they often kick off their adventure by learning from free, online resources.
This need, coupled with the trend of employees wanting to work for themselves on their own terms, has given rise to a category of freelance software developers (or those wanting to become one!)
Brandy Morgan, who has over 54k Instagram followers, has addressed this gap in the market by sharing her expertise in the form of a course. She teaches those who want to become freelance software developers how to get there while giving them the support and tools they need.
In addition to her paid course, Brandy runs a free Slack community aimed at connecting technology lovers all across the globe together.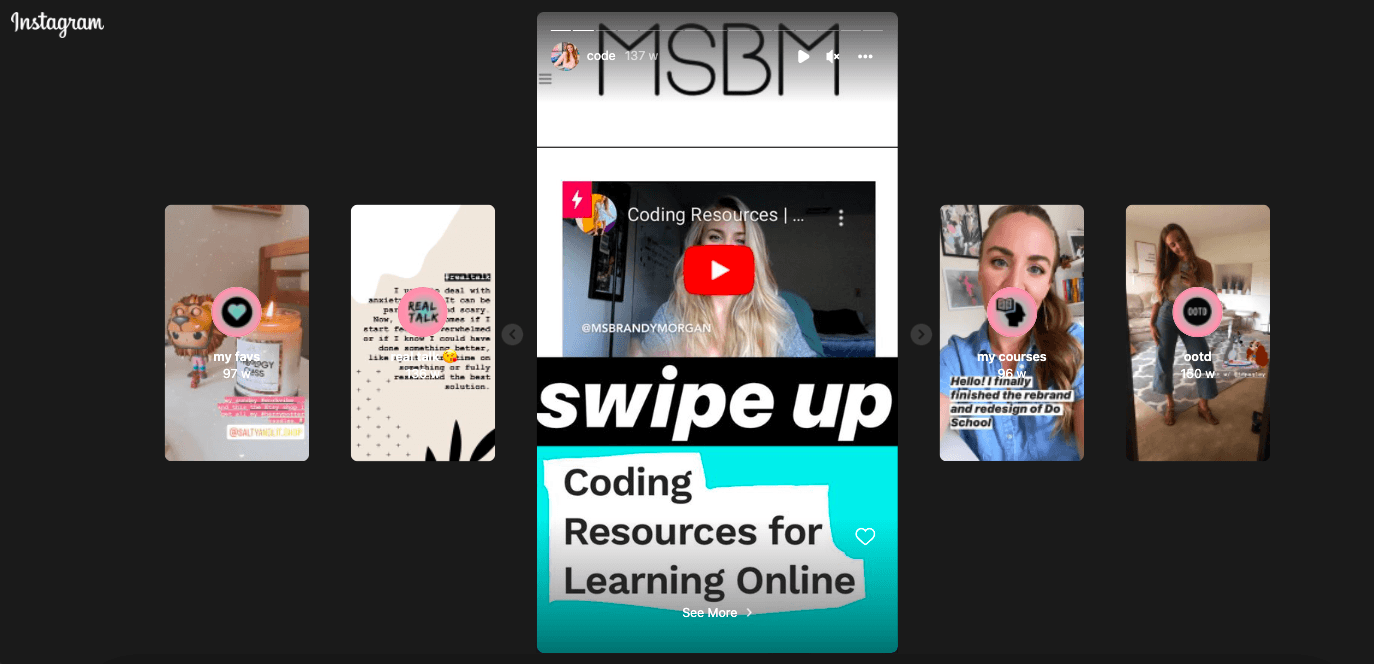 You'll find Brandy the most active on her Instagram, where she shares a ton of coding resources and inspiration for those looking to make the software developer freelance transition. 
On her Instagram highlights, you can see a whole section dedicated just to coding (with some humor, to make things a tad more relatable)! So, if you're looking to get a start on learning the basics, you know where to go. 
#3 Martin Lasek (software developer)
Martin Lasek is an iOS Software Developer and content creator who's built a pretty good reputation for himself across social media platforms. With 27.1k followers on Instagram, you can find him sharing humorous and educational short-form videos, updates on his personal life, and educational content and resources on software development. Instagram is where you'll see Martin the most active!
On Martin's YouTube channel of over 4.6k subscribers, you'll find him diving deep into certain topics and sharing long and thorough step-by-step series, similar to a real-life case study. Sometimes, he even goes live with his tutorials and then later uploads the recorded version to YouTube. So, if you're looking to be engaged with his content and potentially ask him questions in real time, make sure to subscribe!
#4 Zhenya Rynzhuk (designer)
As an award-winning Art Director, Awwwards judge, and freelance designer with a passion for everything product & visual design, mobile & web projects, branding, typography, and animations, Zhenya has been able to amass a large following and work with high-profile brands.
Born in Ukraine and currently based out of New York, Zhenya has worked with household name brands like Google, Nike, Apple, and Adobe as a designer, and has built an impressive portfolio that speaks for itself. Although she focuses heavily on product and visual design, as a creative, she finds herself pursuing branding and animation when it makes sense.  
One of her most well-known projects includes a free Adobe UI kit for Adobe XD, called Designer Marketplace UI Kit. It is designed to help users create designer apps, websites, marketplaces, and fashion editorials. On Dribbble, she has a whopping > 140k followers keen to see her latest designs and projects.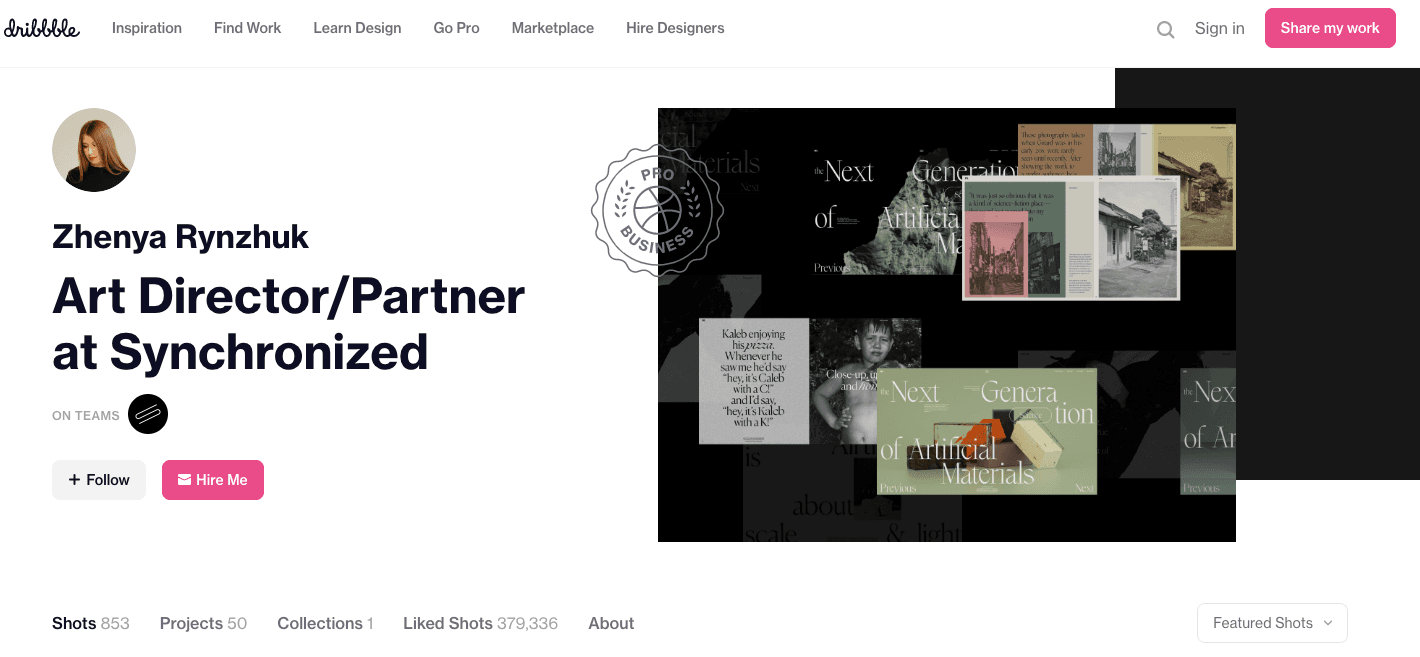 Due to her expertise, demand for her knowledge and design wisdom grew beyond her free resources online. Zhenya has successfully co-founded the Sochnik Design Thinking School where both beginners and very advanced designers can learn to improve their craft. 
Wondering what makes Zhenya such a popular designer? It's her unique contemporary design style, known for edgy layouts and smooth, innovative animation styles. She knows what she's good at, and goes full force on showcasing her skills! If you want to see Zhenya engage with fellow designers and see her latest work, follow her on LinkedIn, where she currently has over 15k followers.  
#5 GmoneyNFT (NFT expert)
NFTs and the Metaverse have been the talk of the town. The concepts can be intimidating and challenging to understand for many people, so influencers who can explain them in a simplified manner are naturally growing their following. 
GmoneyNFT is a perfect example. With over 47k Instagram followers and a unique take on things, GmoneyNFT has become a reliable source for NFT and metaverse updates (which appear almost every day).
This authoritative figure and Instagram influencer hosts education events surrounding the topics of NFTs and the metaverse. What sets them apart from other NFT influencers is that they donate event profits to various organizations, proving to be a genuine and reliable source. 
#6 TheMushroomTech a.k.a UXCyre (UX designer)
With the increasing amount of platforms and applications being developed on a daily basis, it's hard for businesses to stand out. UX designers focused on both functionality and aesthetics are the ones who have high demand.
Cyré, a UX designer obsessed with color and accessibility, is making a mark in the world of UX design. On TikTok, where she's most active, Cyré has grown an audience of over 165k followers by helping aspiring and practicing designers understand all things UX. You'll often find Cyré sharing her opinion on UX trends and news, reviewing color palettes, and sharing resources. 
Cyré started her journey by providing freelance graphic and design services, and has now branched out to working full-time in-house at a tech company, while also selling materials and creating content online to help fellow freelancers and designers improve their craft.
On Vibely, Cyré founded a group dedicated to creatives who want to be held accountable for practicing UX design and much more. In the group, you'll find both free and paid UX design challenges to help you grow and improve.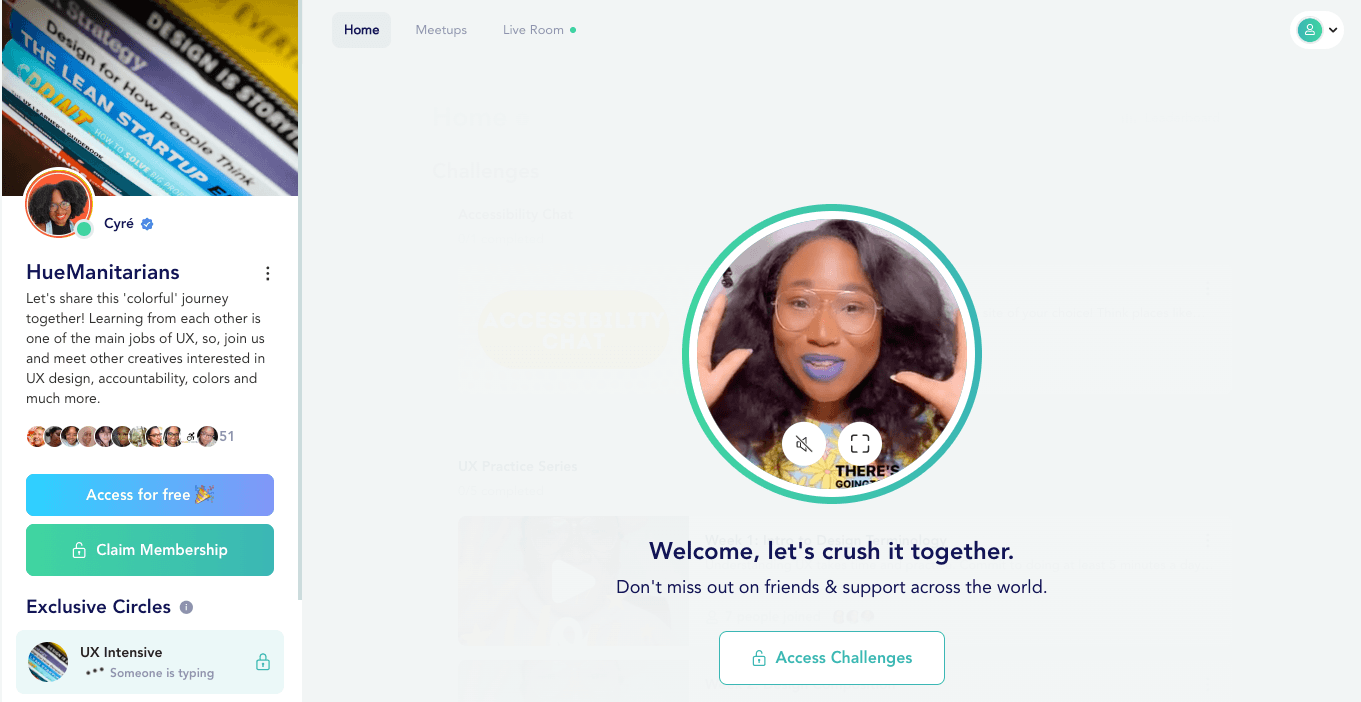 #7 David Langer (data expert)
With over 97k followers on LinkedIn and 56k on YouTube, David is known for his data expertise. After being laid off in 2020 among many others at a tech startup, he took this as an opportunity to pursue his lifelong dream of building a business.
This is how Dave on Data came about. His company focuses on empowering professionals and teams with the valuable data analysis skills needed to succeed in the modern workforce. Dave believes that any and every professional needs to be equipped with data skills given the increasingly important role that data plays in the world. 
On LinkedIn, you can find Dave actively engaging with data-related news and sharing valuable resources. On YouTube, he shares a goldmine of free tutorials related to SQL, excel data analysis, R, and more! So be sure to check out his many playlists.
His demand for free content became the springboard of his online courses where he offers online courses for those looking to learn beyond the free materials he posts online. Dave caters to both professionals looking to build their data skillset, and managers wanting to empower their teams with data literacy. 
#8 Carla Gentry (data influencer)
Inspired by the challenge of being a single mother of two sons and wanting to build a bright future, Carla was hungry to learn and grow about the world of data. She calls herself a proud data nerd, and rightfully so! From SQL, big data, and machine learning, to discussing women in STEM and more, you can find Carla sharing her learnings and findings to her 382k followers on LinkedIn quite regularly. 
She is known to be the most engaged data influencer, which explains how she can cover such a broad range of topics! More recently, she's been seen engaging with topics such as climate change and natural disasters.
Carla has worked for Fortune 100 and 500 companies, some of which include Hershey, Kraft, and Kellogg's, helping them to analyze their huge complex databases to uncover trends and business needs. She stands strong behind the idea that data science is a powerful asset that needs to be used in all businesses, regardless of their function.
#9 Mayuko (software engineer)
Tech is a booming industry, and nearly all developers aspire to work in the coveted silicon valley. Those who have the highly desirable work experience in the tech space at high-profile companies are sought after for advice, tips, and guidance. Mayuko, a software engineer with over 6 years of experience working at tech companies in Silicon Valley, has grown an audience by creating content for those wanting the 'tech lifestyle'. During her years working in the tech hub, she held positions as an iOS engineer at companies like Intuit, Patreon, and Netflix. In 2020, she took the leap of faith to become a full-time software content creator, where she has a plethora of videos dedicated to helping aspiring software engineers launch their careers and get their dream jobs.
With over 535k subscribers on YouTube, Mayuko has helped thousands to build their skill sets by making software development accessible. What makes Mayuko's channel unique is that her content intersects technology, career advice, mental health, and cultural identity. So, if you're looking to start your software engineering journey, or actively pursue your dream job within the tech space, you know where to go!
#10 Becca Luna (web designer and educator)
With an impressive 109k followers on TikTok, and 25k on Instagram, Becca Luna has inspired thousands of aspiring freelance web designers to take the journey towards self-employment. She gained her popularity and large following thanks to her ability to design beautiful websites for businesses. Not long later, she diversified into the realm of e-commerce and course creation. She started off by sharing tips and her digital nomad lifestyle as a freelancer, which resulted in an influx of questions and curious folks wanting to learn more about her freelance designer lifestyle.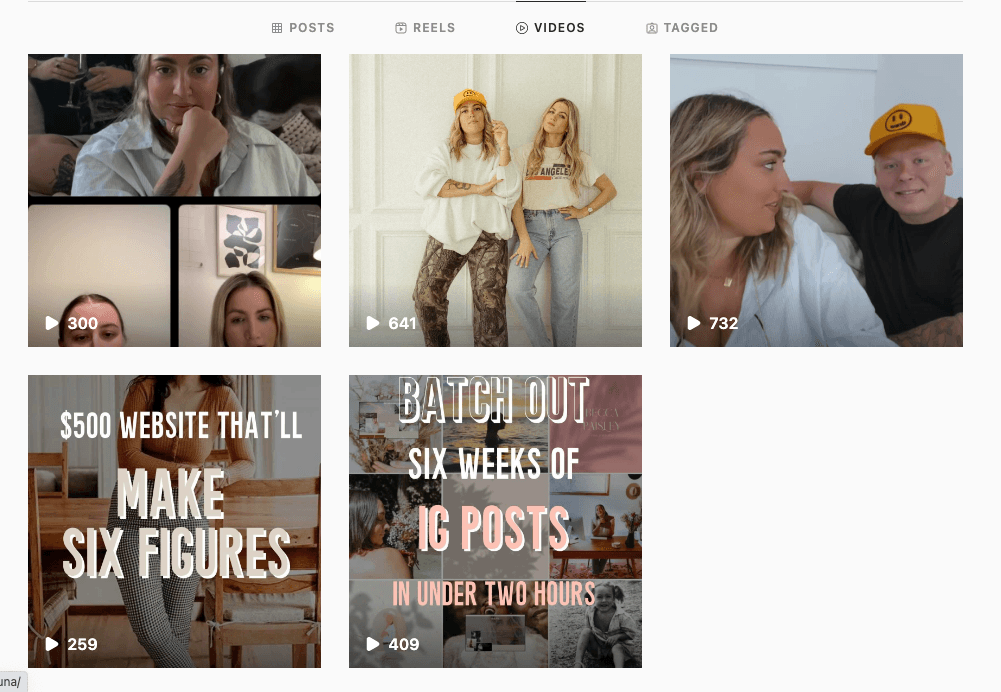 These days, Becca is most active on TikTok, where you'll find her sharing value-driven content on web design tips, business advice for freelancers, and design inspiration – she really does it all!
For beginners wanting to break into web design, Becca created a detailed course on Showit. From there, she expanded to selling a course for designers who want to build their own brands while selling premium design services. So, whether you're looking to join the web design space, or are already skilled but want to sharpen your business acumen and become a successful freelancer, be sure to give Becca's page a follow!
Social media as the treasury of knowledge
These were just a handful of inspiring people, who are currently making it big in the tech influencer community. If you're in the software or design scene and would love to see what it's like to make a name for yourself online, then MVP Match can be a perfect start!
We're an elite freelancer community that offers software engineers, designers, and product managers the opportunity to work on exciting projects (ones that are challenging in all the right ways). Ready to work with some of the top tech talent out there? Join us!