Don't we all love payday! The reality though is that before the money lands in your bank account, comes payroll day. Yay or yikes? If you said the latter, then worry not, as I'm going to tell you exactly how to get paid as a freelancer! Here are the four methods I recommend using.
How to get paid as a freelancer – a list of methods
Let's begin with the absolute basics:
Method #1 Traditional bank transfer
Going with a bank transfer might seem like the simplest method. You issue an invoice, send it over to the client via email or Slack, and wait for the payment. Is it really the most efficient way to receive money though? You've guessed the answer – it depends.
It comes down to where you and your client are based. For example, I run my business in the EU, which means neither I nor my EU clients have to worry about transaction fees. This isn't true when I work with international brands, though. 
When one of my clients from the other side of the globe sent over money to my bank account, I opened my eyes wide open. About 7% of the amount I was expecting wasn't there. When I looked into the transfer details, it turned out that my client did, in fact, send out the right amount. My bank decided to deduct a commission for the international transaction. Ouch!
So, based on my experience, going with a bank transfer will be best if:
The client can cover 100% of any extra fees like currency conversion and transaction fees

You can issue a VAT-free invoice (like I do for clients from other countries in the EU), or there are any other special tax exemptions. We will discuss these further in this piece, so stay put!
Now, how about the alternatives to traditional banking?
Method #2 Virtual accounts
Want to avoid the costly bank fees for international transfers? Opening a virtual account might be just what you're looking for.
Virtual accounts let you accept payment from anyone in the world either in your local currency or a foreign one of your choice. 
Compared to traditional banks, this option is way more favorable when it comes to conversion and transaction fees. And it gets better – most of these services let you create simple "payment request" orders. All you do is add the client's email address, enter the amount you want to receive, click "Send", and the client receives a transfer request. This way, your client can settle the payment within seconds (for example, via their credit card or Google Pay). Here are a few of the more known services:
Revolut
Revolut lets you create a 'freelancer' or 'business' account. If you don't have a formal entity (like individual entrepreneurship), then the first option will be more than enough (and it's free forever!). Meanwhile, the business account will come in handy if you want to generate payment reports (hint: your country might require you to submit these to the IRS). The business account will be free on a basic plan – which is more than enough if you're not planning on receiving tens of payments a month.
 How about transaction fees, you ask? Depending on the credit card type and your client's host country, you will see a fee of EUR 0.20 and a 1-2.8% commission (1% for EU countries, 2.8% for all others).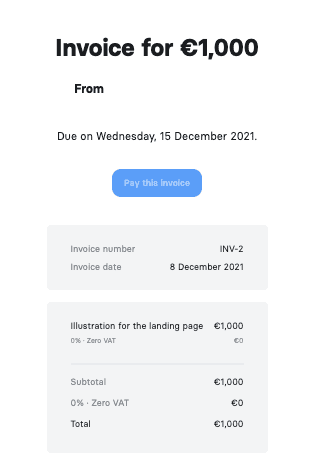 Revolut also simplifies billing. You can create invoices through a ready-to-use template, and export detailed payment reports.
PayPal
Like Revolut, PayPal has an offer for both freelancers and businesses. If you're wondering whether it's better than Revolut, then you'll have to do some math – the rates will vary depending on your and the client's country.
PayPal applies anything between a 1.2-2.9% commission and an additional fee depending on the client's country – 0% if both of you are based in the EU, 1.29% – for the UK, and 1.99% for other markets.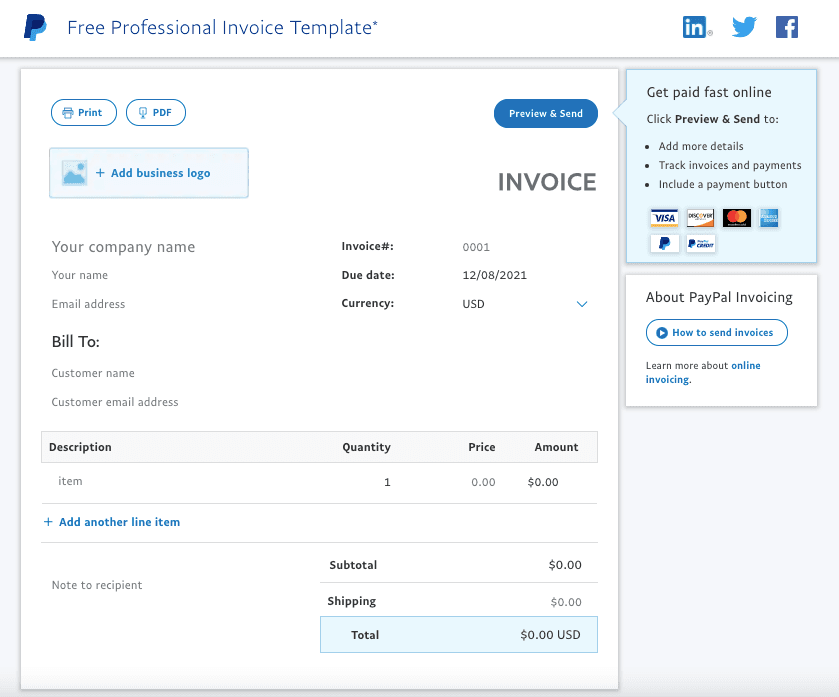 Source: PayPal
Similar to Revolut, PayPal lets you create detailed payment reports and use templates for invoices.
Wise
Wise might be your go-to solution if you'd like to receive payments quickly AND in your local currency. While I haven't used their service (at least not yet), they claim that they're 6 times cheaper than traditional bank transfers,19 times cheaper than PayPal, and half of all payments arrive within an hour. All sounds really good if you ask me!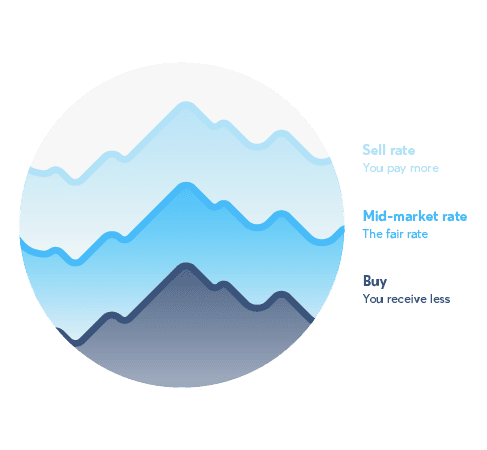 Source: Wise
You can set up an account for free and receive payment in over 50 currencies. If you choose to convert the money, you'll do so at a "mid-market exchange rate". In simple words, it's the amount you'll see in your local currency when you pop the amount into Google.
Method #3 International transfer services
If you're lucky enough to be working with international brands (or are planning to), then using international money services is an option worth looking into. You can either send the money via an online service or pop into one of their brick-and-mortar offices. The upside of this option is that you get money instantly. The downside is that if you choose to pick up the payment at one of their physical locations, you might have to pay extra. Now that we got it straight, let's quickly look at the main players. 
Western Union
I bet you've heard of this one! And no wonder, since wherever you go, you can see a shiny Western Union logo (which is handy when you're stuck in a foreign country with no money). You can always message your family or friends to wire you some. Turns out that it's also a good method to receive money from clients.
Money transfers with Western Union are easy and safe. As soon as the sender, i.e., your client approves the payment, the money lands in your bank account instantly. When it comes to service fees they vary based on the amount as well as the sender/receiver's location. You can easily get an estimate of how much it would cost if you decided to transfer the money online. While all fees are covered by the sender, if you decide to receive the money in a different currency, or to an account that wasn't part of the "send transaction", then Western Union might charge you extra. Bear that in mind.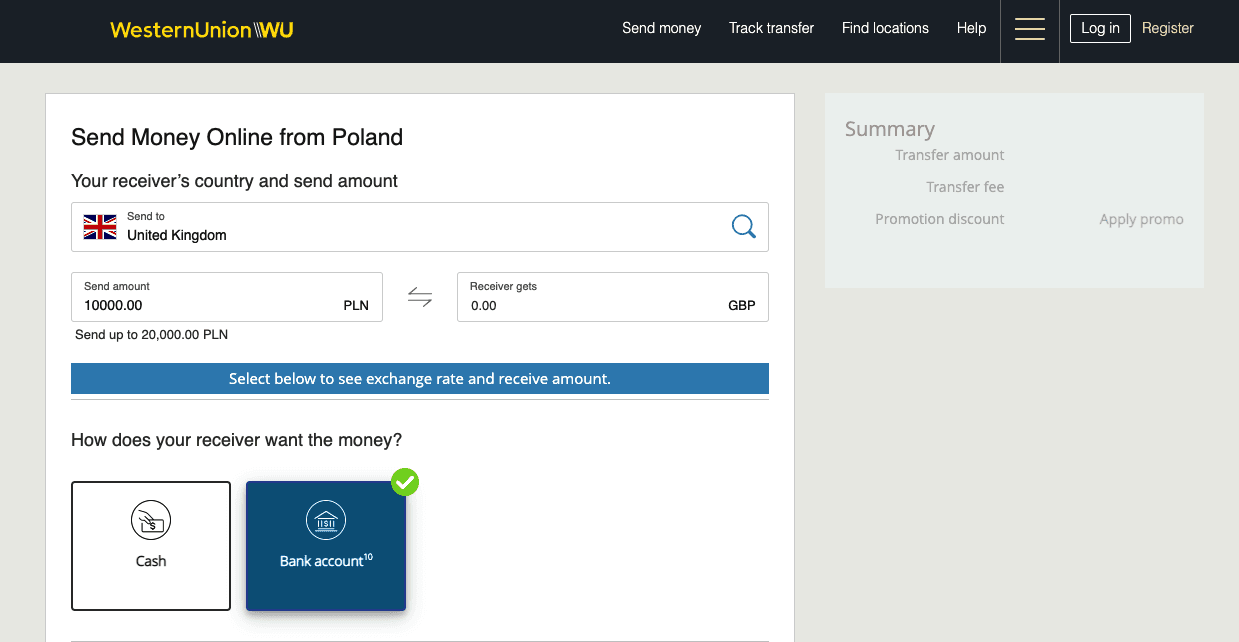 Source: Western Union 
If you use Western Union regularly, then consider joining their loyalty program – My WU® – to start collecting points on the transfers you make. You can then redeem the points and get rewards such as transfer fee discounts. 
You can also look into WU Edge, a digital business platform for SMEs which lets you efficiently manage international payments, 24/7. You can choose this option when your freelancing business starts to grow, which I certainly hope it will!
MoneyGram
MoneyGram is a good alternative to Western Union. You can get your money in a few ways:
via the app

via a bank account transfer 

through a payment sent to your digital wallet 

or by visiting a local MoneyGram office. 
You probably would like to know how much it's going to cost you. When compared with virtual accounts like PayPal for example, their fees tend to be higher, but just like in the case of Western Union they're covered by the sender. If your client chooses a direct transfer or a transfer to a debit/credit card, they will pay a flat $1.99 fee. And this cost won't change, irrespective of the transfer's value. Unless you decide to pick up your money personally from one of MoneyGram's offices then you'll pay $5.99 for a bank account transfer, or $13.99 if money lands on your credit/debit card.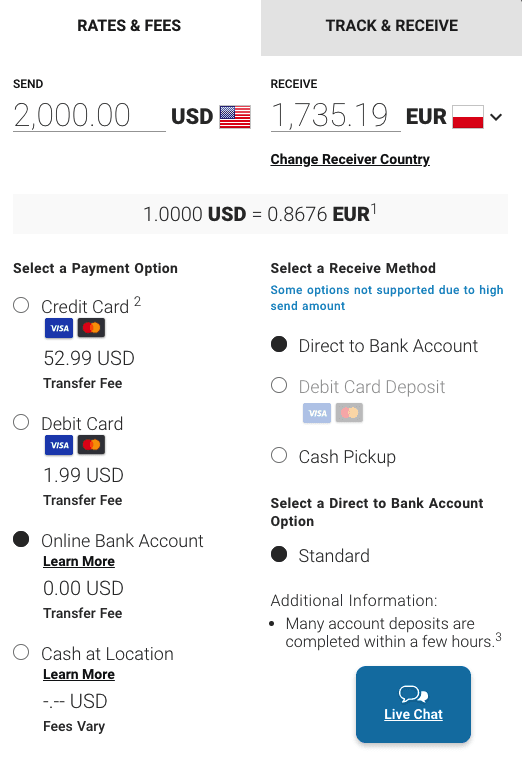 Source: MoneyGram 
Method #4 Working with MVP Match
Wondering how to get paid as a freelancer and skip the hassle of choosing the right payment method? Join MVPMatch! Not only will you get access to ambitious and exciting projects, but you won't have to worry about billing. All you'll have to do is issue an invoice, and Match will take care of the rest. All invoices are paid on time via a bank transfer, within 20 working days – usually much faster! 
6 Tips to make billing efficient for you and your clients
Now that you know your options, here are a few tips to make billing seem like a piece of cake. 
1. Agree on who will cover any transaction or conversion fees
How to get paid as a freelancer will largely come down to who covers any extra costs. When I first worked with a client from the Asian market, I made the mistake of not considering what the transaction fees would be for both of us. As I've mentioned at the beginning of this article, I was used to always getting the same amount I billed on the invoice. 
I was super surprised to find out that I wasn't the only one to get charged with a generous transaction fee. Turns out, the client's bank did the same for them as the sender. Pretty terrible to collect money from both sides on a simple transaction, if you ask me. 
So, if you decide to use a conventional bank account for a client from a new market, make sure to check what the end costs will be. Or, to make things easier on both of you, go with a virtual account! This leads me to the next tip.
2. Ask your client which payment methods they currently use
High chances are, your client will have the whole international transfer scheme already figured out. After all, they're likely working with a number of global brands and contractors. 
Try to go with one of the payment tools the client is already using. They will thank you for it! Not only will you save them from learning a new tool (which can be time-consuming). You'll also make sure they don't face a wall – for example, getting approval of the new tool from the CFO. This will be especially true if you're working with a large business, where every process is regulated, requires high-level clearance, and could take months on end.
3. Use a combination of different methods 
I have listed various payment methods, not without a reason. Customers have a choice of how to pay you, and it's worth being open to different options and selecting those that suit you and the client. I purposely said "those" as you don't have to limit yourself to just one option. Here is what you can do:
If you work with clients who are based in the same country as you or located within the EU, then going with a bank transfer will be the best choice. Transfers are free and they will reach you within two working days. 
If you cooperate with international clients, you can use payment requests via virtual accounts such as Revolut. Usually, they have lower transaction fees than international bank transfers. This is the approach that I follow. 
4. Open currency accounts
When I started freelancing I didn't even consider opening a currency account as all my clients were located in my country. However, as my business grew and I got some international clients I decided to open two currency accounts: in EUR and USD. 
Not only did it make me look more professional, but it also made money transfers easier for the brands I cooperated with. They no longer had to worry about currency exchanges, and only had to cover the transaction fees. Currency accounts can be opened online, it literally takes minutes, and their monthly cost is low. 
5. Check if there are any tax treaties in place
While not directly related to billing, per se, check out if you qualify for any tax exemptions due to international agreements (yes, turns out those two officials you see on TV shaking hands might just have made a difference for your payslip!). 
For example, way back in 1990, Poland and the U.S. signed a treaty that, among others, makes sure Polish and U.S. businesspeople avoid double taxation (in simple terms, you only pay tax in your country). Who knows – maybe your country has an agreement that will make a standard bank account transfer the best option?
6. Check out accounting software
If you like to stay organized, like I do, then look into accounting software to keep track of all your invoices. I used InvoiceOcean – issuing invoices literally took me a couple of minutes as I was able to use ready templates. The date and invoice number were set automatically, and all I had to do is update the total amount.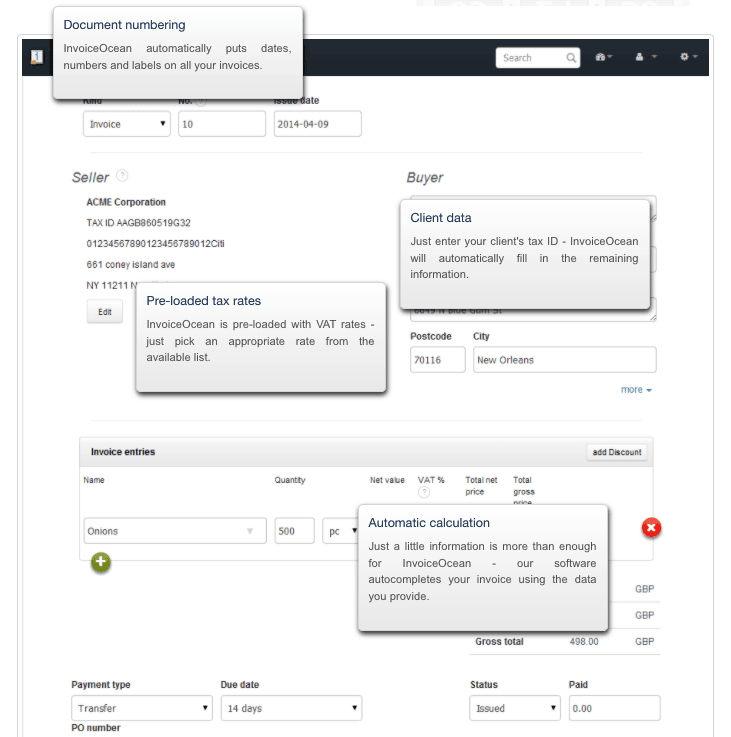 Source: InvoiceOcean
This platform also lets you send the invoice to your client directly without even logging into your email account. If you add a "pay now" button to your invoice then you'll be able to quickly and effectively collect payments. It's a great option if you're about to start freelancing as up to three invoices per month are free! 
How to get paid as a freelancer – an ocean of possibilities 
As you can see, there are many payment methods which you can choose, and that's good! It means that you can select those that suit both you and your clients. Remember to account for service fees if there are any. If you don't want to go through the hassle of selecting the right billing method and making sure the payment reaches you on time, then join MVPMatch. We will take care of all formalities.