You probably won't be surprised when I tell you that by the end of 2022, 25% of jobs offered in North America will be remote. This also includes high-paying positions, which accounted for 18% of the job market in 2021. What does it mean to employers? In short, they'll have to change the way they approach employee benefits to make sure they reflect the new work reality. Let's take a look at the employee benefits for remote workers that you can offer to attract the best tech talent.
Switching to remote work brings benefits to both employers and employees 
The COVID-19 pandemic, which pushed many businesses into remote work, has provoked a lot of research to assess its impact on employee productivity and well-being. The verdict is unanimous – working remotely positively affects businesses and their employees. 
First of all, employers no longer have to limit themselves to specific locations when it comes to hiring employees. The talent became widely accessible. Employees are no longer expected to be office-based, which means no commute. These significant time savings contribute to better employee health and morale, which also boosts their productivity. 
Businesses can also expect cost benefits such as: 
Lower operational costs thanks to eliminating office rent

Reduced hiring costs caused by flexible work schedules, which keep employees happy and less prone to leaving the company

Healthier employees mean less money lost due to sick leave.  As our work reality has changed, so should the benefits that companies offer to their employees.
Remote employee benefits – things to consider
If you've never managed a remote-first team, then there are a few factors you need to take into account when building out the best employee recognition program possible.
For starters, with watercooler interactions and team lunch Wednesdays off your plate (pun intended), you need to address how you're going to help your team tackle loneliness. Or, perhaps even more importantly, create that feeling of belonging and connection with others working for your company. Your benefits program should seek to address this issue.
Secondly, high chances are that your remote staff will spend a big chunk of their workday curled up on a sofa or even in bed. And that means back pain, strained wrists, twisted neck…you know the drill. Your health & safety specialist can't exactly go knocking on their door, urging them to sit in a proper position. For this reason, many companies decide to include an extra stipend so that employees can set up their dream workspace – which we will discuss later.
And finally, I'd like to address the elephant in the room – employees who choose to go back to the office, getting special treatment for it. Some companies keep luring locally-based staff back on-premises, which makes sense given that they might still be bound to huge office space with pre-pandemic contracts. At large enterprises, they might be getting access to free breakfast at the office canteen, weekly yoga classes, or even physiotherapy. And yet, if you're genuinely "remote-first", then for every benefit offered to in-house staff, you need to offer a nice equivalent to offsiters.
Glassdoor career and workplace expert Rusty Rueff nicely puts it by saying that companies need to "bridge gaps in the realities of today's new normal", and employee benefits for remote workers are a critical part of this.
11 employee benefits worth including for your remote workers
1. Offsite events 
While most employees love working remotely, at times they might feel isolated and disconnected. In order to keep people engaged, it's worth organizing company get-togethers in exciting locations to give them the opportunity to catch up and socialize. 
They can last 3-days or longer – this will entirely depend on your budget. During that trip, you can spend a few hours working, and the remaining time having fun. At MVPMatch, we all traveled to Tuscany, it was fantastic!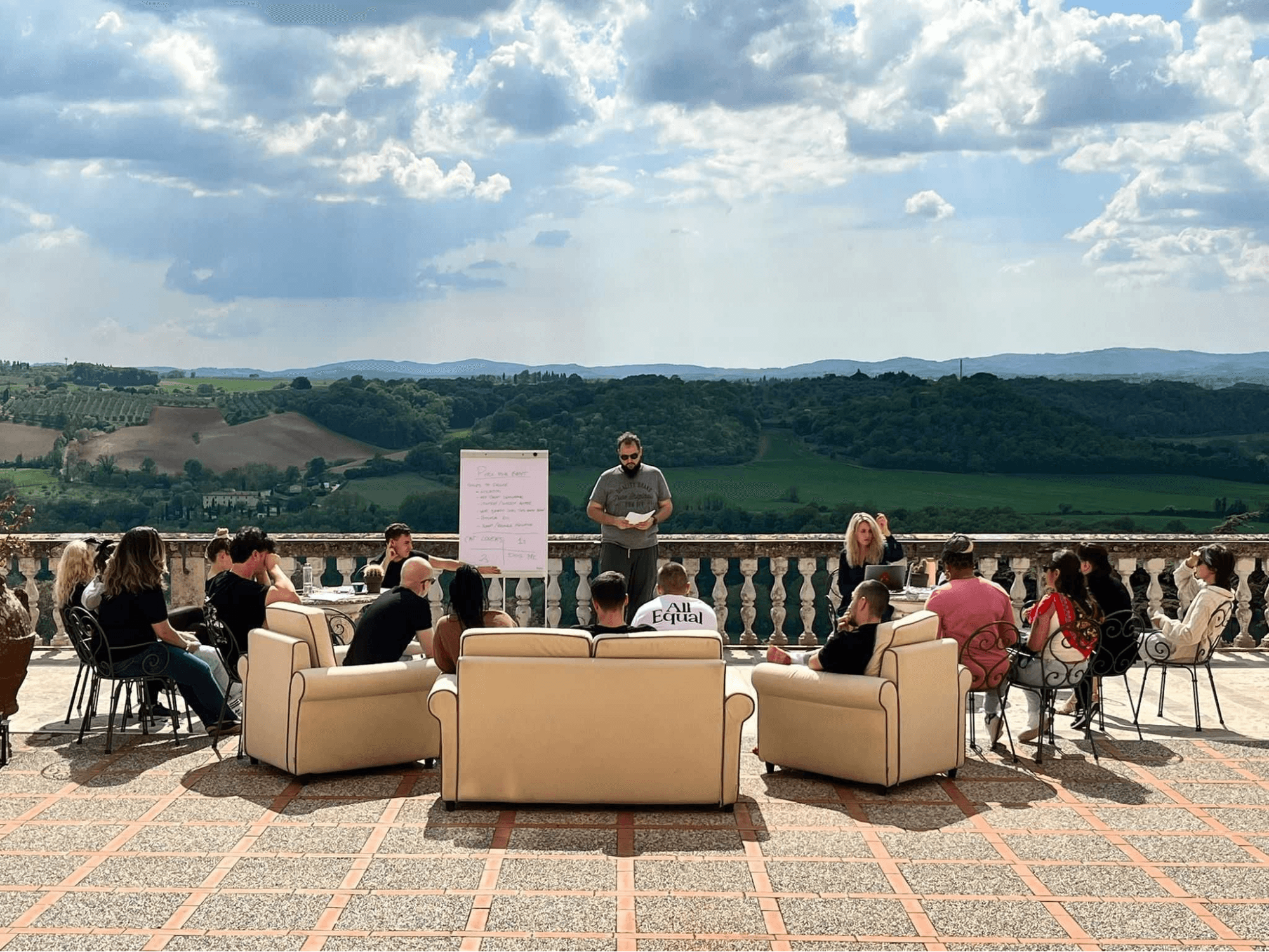 A brainstorm session during Match offsite in Tuscany. Check out mvpmatch.co/careers page to find out more about our benefits!
Organizing offsite events is especially important for fast-growing companies, which hire a large number of employees. It gives new hires the opportunity to get to know their colleagues and to blend in. 
2. Flexible work hours 
When it comes to employee benefits for remote workers, offering flexible work hours should be a no-brainer. Since people have begun working remotely, they started to appreciate having the right work-life balance even more, and they no longer want to be limited by work schedules or timetables. 
They know they have to do the work they're responsible for, but they want to do it at the time when they're most productive. For some, it will be early morning hours, for others late evening or afternoon. 
Letting employees work flexibly will not only keep them happy but also enable them to produce the best results. From a company perspective, this shouldn't be a problem as long as your employees deliver high-quality work on time. 
3. Free mental health support 
If you've ever watched "Billions" or "Working Moms", then you've seen that two of the major characters worked as company psychologists. And this profession is not a work of imagination, as many large businesses offer on-site access to mental health support as part of their benefits package. 
To make your employee recognition program stand out, you should emulate this experience for remote workers. As mentioned earlier, they are particularly vulnerable to alienation and might struggle with finding their place within the organization. 
Depending on your budget and company size, you can either hire an in-house professional whom your team can always jump on a call with, or offer a stipend so that they can see a specialist of their own choice.
4. Contribution to co-working space rental
Working remotely doesn't necessarily mean being home-based. While some people enjoy working from home, others don't – they feel lonely and unproductive. Some employees simply don't have the right work conditions at home as they have small kids or particularly noisy neighbors. For this reason, it's worth offering a subsidy that would cover co-office space rental. Not only will they get a chance to work in peace and quiet, but also to meet like-minded people, which would reduce the feeling of loneliness. 
5. Stipend for dependents
Remote workers often have to juggle between work and home, which might take a toll on their productivity. That's where you come in to give them a helping hand! There are a number of ways in which you can support them. As children are the most common dependents' group, consider starting off with a healthcare plan for kids – perhaps, one complete with dental and eye care coverage. You can also offer extra, paid days off in case anything, like illness or snow day, comes up. Or, if your budget allows, you could even contribute to their daycare or nursery costs. 
Some companies, like 100% remote Buffer, have decided to go the extra mile. They cover not just children, but anyone who relies on their employee's salary for life, including parents, spouses, and even siblings. Their special benefits program, Dependents Grant, was set up back in 2019 and proved a huge success.

Source: Buffer
6. Pet healthcare insurance
This benefit might be particularly worth considering if you identify as a pet-friendly employer. Chances are, you'll see an enthusiastic response from workers, given that in the U.S. alone, about 70% of households own a pet. 
These insurances work the same way their human counterparts do – you pay a monthly/yearly subscription fee.
Including it in your employee benefits for remote workers will bring the following advantages:
Keep animal-related absenteeism to a bare minimum

Boost your employer branding

Lower employee turnover rates

Increase job satisfaction and productivity.
Sounds pretty good, right?
7. Home cleaning 
I enjoy working from home, however, it's terribly hard for me to stay focused when my workspace is messy. I have to clean and organize it first before I switch on my laptop, and it turns out, it's perfectly normal (phew). According to research by Stanford University, it's easier for us to focus and process information when there is less clutter, i.e., less mess around us. 
If you want to keep your employees productive then you can add home cleaning services to your list of employee benefits for remote workers. They will take care of all the house chores that your employees would have to perform themselves. It will give them more time to focus on work, and have some fun. I am sure it's something they will appreciate massively – unless they simply love chaos. 
8. Wellness rewards programs
Some employees who work remotely, especially those who are home-based tend to move less, which can have a negative impact on their health and well-being. For example, according to research by Statista, 39% of employees in Poland gained between 4-6 kilograms in 2021 while working remotely.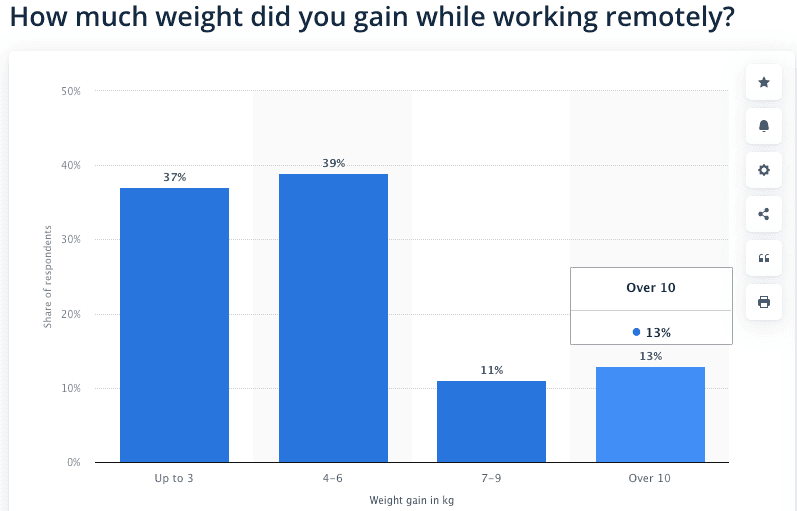 Source: Statista
To encourage people to engage in physical activities you can offer them access to wellness reward programs such as gym memberships, yoga classes, weight-loss programs, etc. Ensuring that your employees stay in shape will have tangible business benefits including:
Less sick leave

Higher productivity

Reduced compensation related to injuries and disabilities

Higher employee morale and loyalty. 
9. Home office equipment 
Remember how I've mentioned the risk of people working from all sorts of spaces, and in different body positions? You can motivate your employee to sit upright by offering them a stipend for home office equipment. While you should ensure that they spend the money wisely, i.e, ergonomic furniture and other functional equipment, you should encourage them to invest in some decor, too. After all, the more comfortable they feel in their newly-setup workspace, the less inclined they'll be to lie in bed all day.
For inspiration, you can recommend that they take a look at how some other remote pros have set up their office space – here's where Michael Redding, creator of Figma academy, runs his day-to-day business.
Source: Workspaces
10. Vacation stipend 
Now, who would say 'no' to this one? Vacation stipends are reimbursements you pay out to your employees that can be spent on personal travels. These types of benefits will work perfectly even for employees in countries, where the company is required to put away money for the employees' holiday as part of the national benefits package. Unlike these public benefits, a vacation stipend isn't a deduction from the employees' net earnings; it's that little extra right out of your company funds.
One of the most popular companies that offer this employee benefit for remote workers is Airbnb. Anyone working at the company gets an annual $2,000 travel stipend, which can be paid out in equal parts each quarter.
11. Support in student loan payments
Last, but not least, some companies decide to help bring their employees out of college debt. Your employees will find it particularly attractive if they're based in the U.S. 
Harvard Business Review reports that "the Federal Reserve has reported a record-breaking $1.7 trillion in federal and private student loan debt, which is currently held by more than 44 million Americans". No wonder 80% of professionals who are still paying for their education are feeling stressed by their financial situation. Unsurprisingly, this leads to low concentration and performance levels.
If you'd like to include this as part of your remote employee benefits package, inspire yourself with PwC. They are among one of the first companies that have decided to pay $100 a month, for a maximum of six consecutive years to their associate- and senior-level staff. Now that's what I'd call being a supportive employer!
Getting it right with employee benefits for remote workers
The internet is flooded with resources that feature employee benefits for in-house staff, with few actually being fit for remote-first companies. If you want to make sure you support your dispersed team and attract the best talent, you need to create the absolute best employee recognition program possible. 
While some benefits will be universal, like vacation and home office stipends, others should be tailored to your employees' specific needs. If you're a pet-friendly company, think of pet insurance. And if you're hiring a group of recent graduates, a student loan payment program might be the perfect motivator to make them stay with you (and log into Slack happily every day).
Good luck!